Firm Profile
Leopold Consulting, Ltd. is an Illinois Professional Design Corporation founded in 2003.
Scott Leopold's practice concentrates on investigation of structures relative to property damage and design- and construction-related failures. Services include remedial design of architectural and structural building components. Mr. Leopold consults in matters involving life safety and construction safety. In the 1980s and 1990s, his practical experience involved design of buildings, and performance of construction phase services.
Leopold Consulting, Ltd.'s clients include architectural and engineering design firms, consulting engineering firms, building owners, construction contractors, insurance companies, and attorneys.
Study the Facts. The answer follows.
Scott R. Leopold, PE, SE

President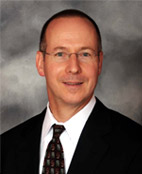 Scott Leopold obtained a Bachelor of Science degree in Civil Engineering with Honors in 1983, and a Master of Science degree in Civil Engineering in 1984, at the University of Illinois at Urbana-Champaign. Mr. Leopold has been a Licensed Structural Engineer since 1988.